How to wash kitchen towels? It's like washing your napkins. Yes, but as we all know that kitchen towels are used to help us with almost everything from cleaning spills from the counter and cleaning our crockeries to dusting the closets and drying our hands. After this much work, I think it is a bad idea to wash kitchen towels with jeans, t-shirts or socks as these dirty kitchen towels are mostly stained and have a foul odour.
So how to wash kitchen towels then? In this article, we will look into how to wash kitchen towels so they look as clean and colourful as new! The following kitchen towel care steps would make your towels look excellent and reusable.
Let's do this!
Wash your kitchen towels regularly. Washing microfiber towels with the tide is advisable.
Change your kitchen towel after you use it to wipe off any raw meat from the counter.
Rinse your kitchen towel in hot water. It is preferable to wash your kitchen towels in a heavy-duty cycle to avoid any bacteria.
Avoid using any fabric softener for your kitchen towels.
Air dry your kitchen towels for a few hours until they are completely dry to remove any moisture.
Your kitchen towel is ready to place in the laundry hamper.
How to clean smelly kitchen towels?
Kitchen towels are that extraordinary tool that helps in several ways, from absorbing the grime and food from the counters to drying off our wet hands. These towels do not get enough environment to get basked in the sun. As they get washed, they are just ready to get reused for the hundredth time. It is ubiquitous to use kitchen towels often without washing them for days; however, proper care for these towels would restrain them from absorbing any repugnant or stinky smell from the atmosphere.
Vinegar and baking soda are the two proven odour busters. So to clean your smelly kitchen towels, take a bucket filled with warm water and add vinegar. Keep it for about 15 minutes. Then sprinkle one tablespoon of baking soda in the bucket and soak your towels for a wash. You will remove the dingy smell easily if you wash your kitchen towels regularly.
Can you wash tea towels with your clothes?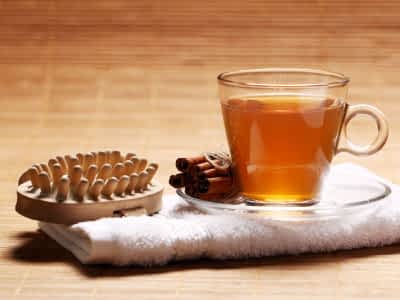 It's essential to wash your tea towels separately as they can damp bacteria into the laundry. Kitchen towels, bath towels and other laundry is a good place for the breeding of bacteria. According to Charles Gerba, a microbiologist at the University of Arizona has scientifically proven that the bath towels contain different faecal bacteria like Coliform bacteria and E.Coli.
So washing the tea towels with bath towels or other clothes forms a bacterial soap in the washing machine. That's why you should never wash your tea towels with clothes so they cannot become a source of transmission of germs and bacteria.
How to wash kitchen towels in a washing machine?
Before starting, the first thing you need to know is that ALWAYS use hot water to wash kitchen towels in the washing machine. This method will break down any stains, patches, oil marks, germs and bacteria cycles from the threads. Now how to do it?
Load the washing machine with the dirty kitchen towels. DO NOT try to overload it.
Detergents with stain removal components are the best laundry detergents for kitchen towels. Set the washing machine to a hot cycle to kill all bacteria.
Avoid fabric softener as it will block the fabric threads to get clean from the inside.
Rinse before air dry. NEVER leave your kitchen towels overnight in the washing machine.
How to clean stained kitchen towels?
Kitchen towels might face hard to wash stains and spots. Although, commonly, some stains would become permanent if not treated urgently. Here are a few tips for washing different stains using these ways:
Meat juices, fruit juices and tomato stains – can be removed with cold water.
Tea and coffee stains – can be removed by pouring boiling water against these stains.
Grease, cooking, and other hard stains – get rid of these stains by applying liquid dish detergent for about 5-10 minutes on the dry stain.
Combination stains – can be vanished using fabric stain removers.
Washing kitchen towels is one thing, and organizing is another crucial aspect. Always declutter your kitchen towels in different categories like washable towels, tea towels, kitchen towels, wet kitchen towels etc. It is essential to keep them in places with less moisture, like a wall rack cabinet or towel ring.